The theme of the AACR Annual Meeting 2016, Delivering Cures through Cancer Science, emphasizes how advances in patient care and public health are dependent on discoveries in all areas of cancer research. In keeping with this, the multidisciplinary program featured researchers from across the continuum of cancer research and representing all stages of a research career.
Highlights of the cutting-edge research presented at the meeting were summarized by AACR leaders in a wrap-up plenary session.
During the closing plenary, Scott A. Armstrong, MD, PhD, chair of the 2016 Annual Meeting Program Committee, discussed key basic and translational research presentations. He opened by focusing on several presentations in the field of epigenetics, i.e., research into mechanisms that control gene expression. Some of these presentations outlined new insights into the ways in which disruption of epigenetic mechanisms controlling gene expression can lead to activation of oncogenes—genes that have the potential to cause cancer—while others focused on the potential for therapeutic targeting of epigenetic gene-control mechanisms. Armstrong also highlighted a number of genomics research presentations investigating the genetic diversity among different cells isolated from a single cancer. He emphasized the critical value of mapping this genetic heterogeneity and understanding how it evolves because the information is vital to identifying optimal therapeutic targets.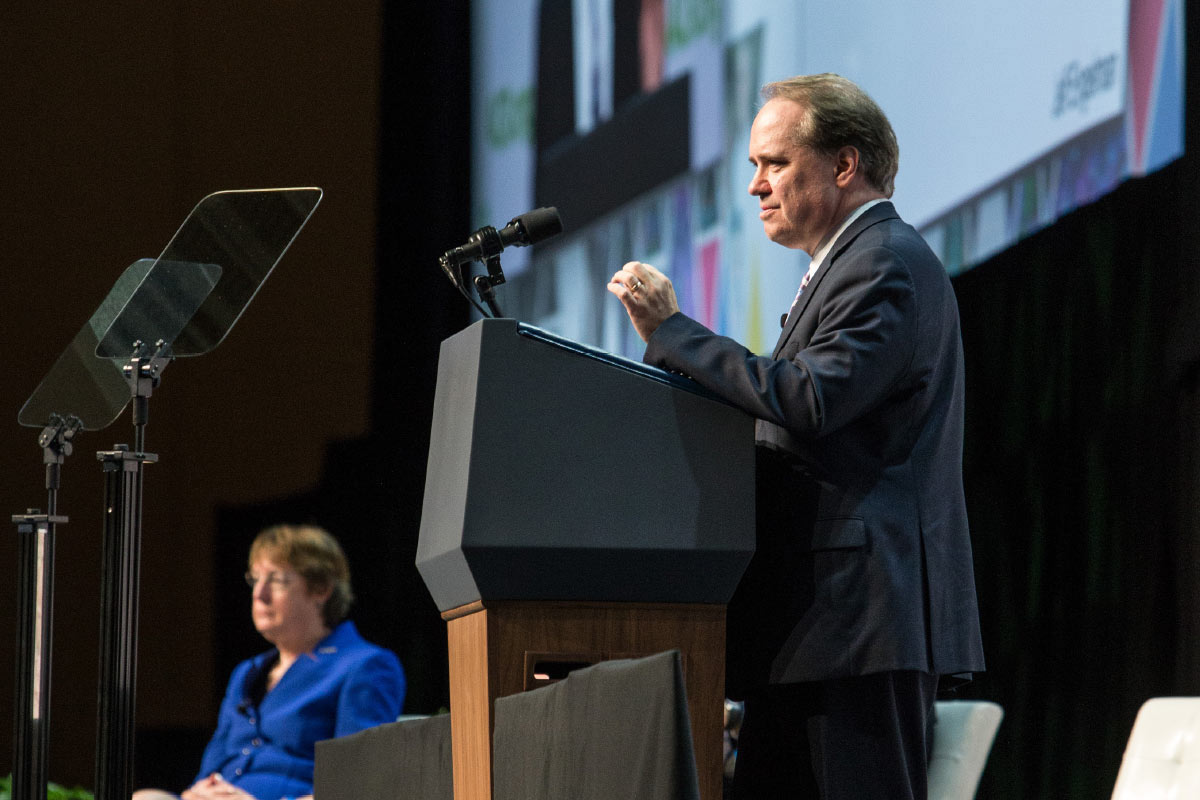 José Baselga, MD, PhD, FAACR, 2015-2016 AACR president, gave an overview of some of the groundbreaking clinical research presented at the meeting, focusing on three main areas. He opened by highlighting a prospective clinical trial that he said had the potential to change clinical practice. The trial, which was presented in a clinical trials plenary session by Martine Piccart, MD, PhD, showed that using the MammaPrint genetic test can reduce the use of adjuvant chemotherapy (chemotherapy given postsurgery) among early-stage breast cancer patients. The second topic addressed by Baselga was the use of new investigational precision therapeutics to target cancers fueled by specific gene alterations. In particular, he highlighted results from two early-stage clinical trials showing high response rates among patients with cancers fueled by TRK gene alterations after treatment with TRK-targeted therapeutics. Baselga wrapped up his comments by reviewing a number of presentations detailing the promise of immunotherapy for treating patients with an increasing number of types of cancer, including head and neck cancer and Merkel cell carcinoma.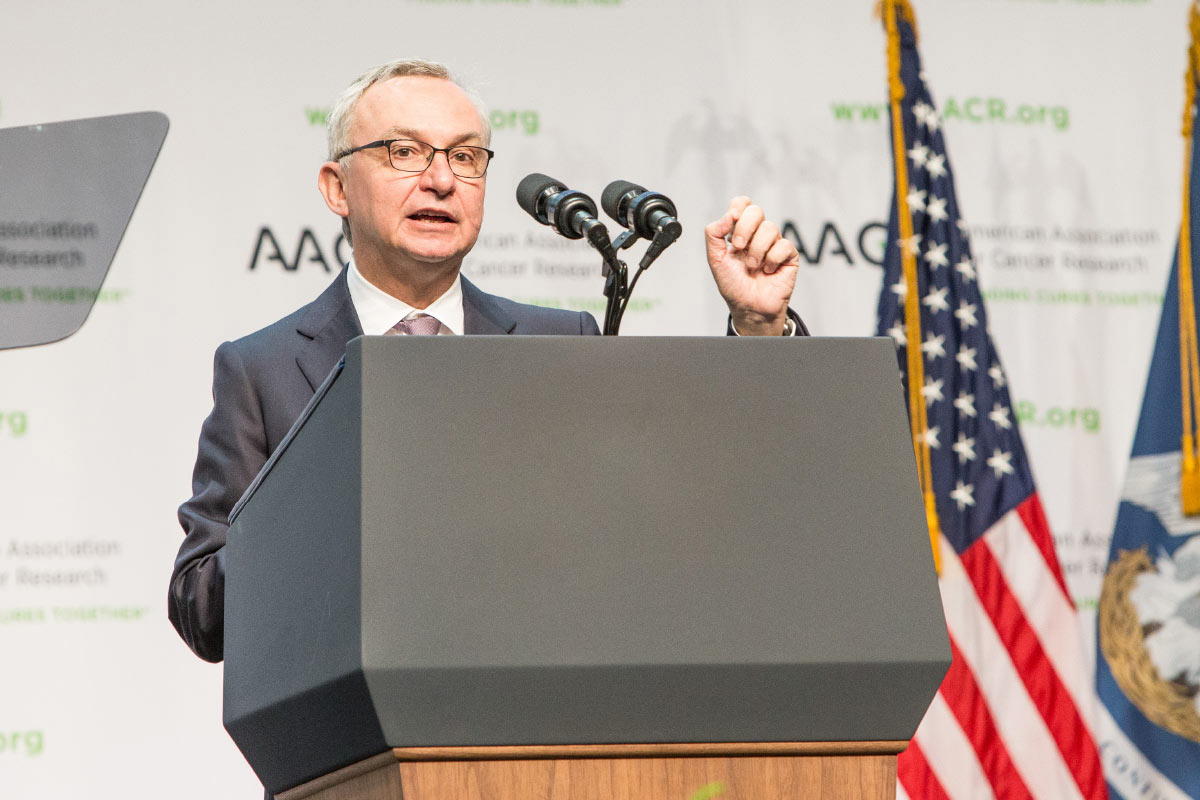 Elaine R. Mardis, PhD, a member of the AACR Board of Directors, highlighted a range of presentations on cancer prevention and early detection research. She opened by focusing on several presentations of studies using new technologies to enhance early detection. Among these presentations were several that focused on detailing the genomic mutations that characterize precancers at several anatomic sites, understanding how these genomic landscapes differ from those of invasive cancers at the same sites, and investigating whether the genomic changes that signify precancer's progression to invasive cancer can be detected by liquid biopsies. Mardis then discussed a presentation about a low-cost, high-resolution microendoscope imaging system that researchers have shown can accurately identify precancerous lesions of the cervix before concluding her comments by highlighting a forum on the nascent field of digital exposomics. Mardis explained that digital exposomics refers to the digital measurement of environmental exposures and other personalized metrics during critical or general periods of life and to the linking of these data to molecular changes with the overarching goal of understanding how environmental exposures affect risk of developing cancer.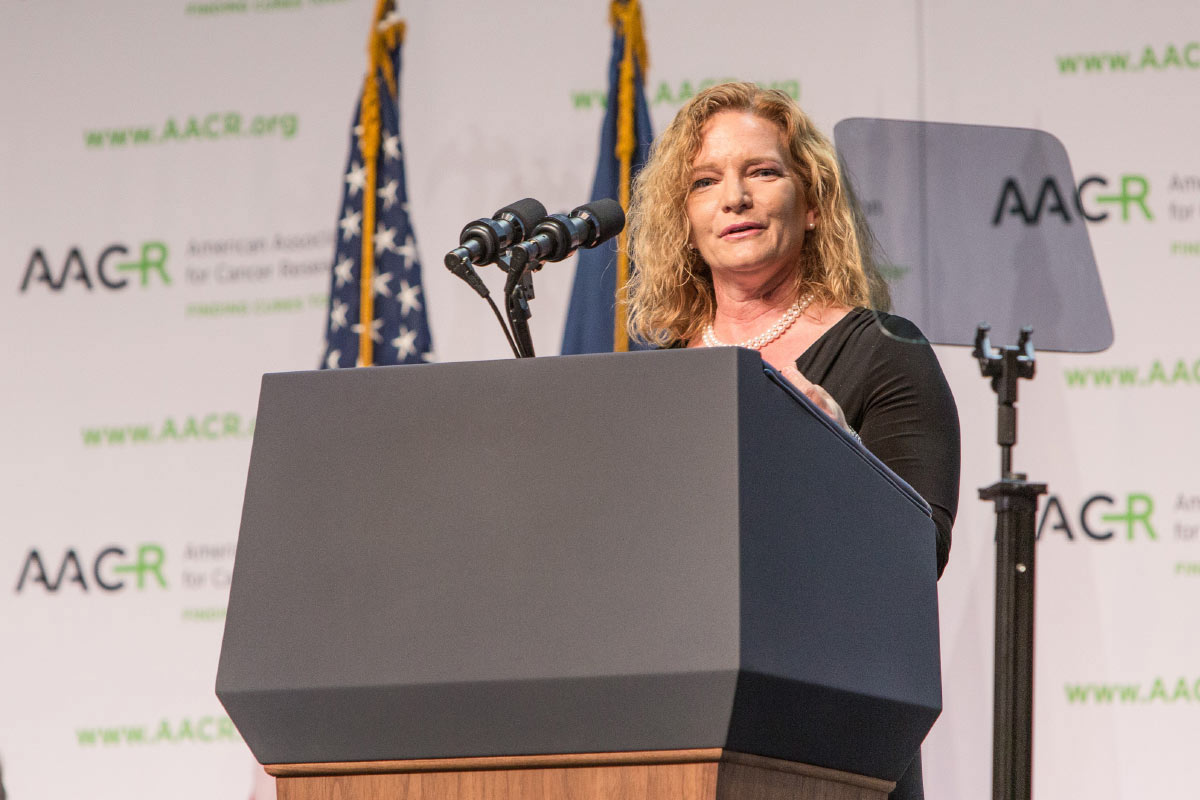 Nancy E. Davidson, MD, 2016-2017 AACR president, concluded the session by highlighting four ways in which we can rise to the challenge presented by the increase in global cancer incidence: identify new approaches to cancer prevention; advance efforts in cancer screening and early detection; develop new and better ways to treat patients; and optimize the use of the tools we already have for cancer prevention, detection, diagnosis, and treatment.