Cancer Research: The Voice of the Cancer Community for 75 Years
The AACR also marked the 75th anniversary of its flagship journal, Cancer Research, in 2016. This milestone was commemorated with a special historical publication distributed to attendees of the Annual Meeting. The journal also published commentaries throughout the year on seminal articles published in the journal that arguably formed the basis of modern cancer research, including the following:
One of the first studies to report that the tumor-promoting effects of a high-fat diet could be directly attributed to caloric intake (Lavik and Baumann, 1943).
A paper that provided the critical link between cancer incidence and smoking (Wynder et al., 1953).
An analysis of United Nations research on the consequences of atomic testing a year before the United States, United Kingdom, and Soviet Union signed the Limited Test Ban Treaty (Upton, 1962).
A critical paper demonstrating the importance of the vasculature to tumor growth, focusing the cancer community on the concept of tumor angiogenesis (Folkman, 1974).
A review of the "two-hit hypothesis" of carcinogenesis, which posited that cancer is caused not only by activating mutations but also by the inactivation of "antioncogenes"— the genetic basis for understanding cancer etiology (Knudson, 1985).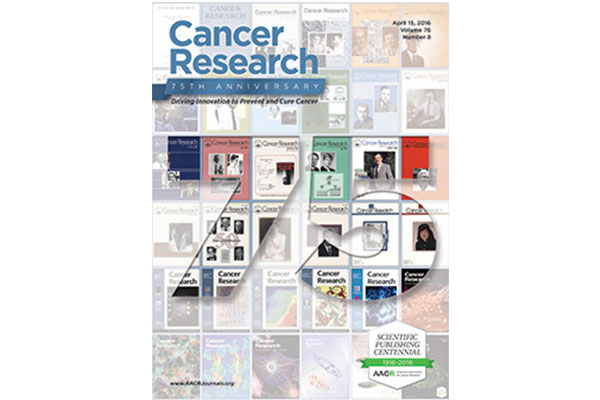 Cancer Immunology Research: Exploring the Newest Frontier of Cancer Science
While celebrating its primary role in the history of cancer research, the AACR continued to define the rapidly expanding frontiers of cancer immunology and immunotherapy through its newest journal, Cancer Immunology Research. Led by new Editors-in-Chief Robert D. Schreiber, PhD, and Philip D. Greenberg, MD, the journal was ranked 20th out of 213 oncology journals with regard to impact factor in its fourth year of publication.
AACR Journals Online
As part of its commitment to the most effective dissemination of high-quality cancer science worldwide, the AACR migrated to a platform that improved the readability and ease of navigation for all of its journals in 2016. Interest in the online journals continued to increase, as journal articles were viewed nearly 71 million times in 2016.