The AACR is proud to serve as the Scientific Partner of Stand Up To Cancer (SU2C), an organization that harnesses the collective power of the entertainment industry to support collaborative, translational cancer research. With ongoing oversight of scientific peer review and grants administration from the AACR, SU2C developed new funding partnerships to enable the launch of transformative new programs in 2016.
SU2C Catalyst Program
In 2016, SU2C along with the AACR launched SU2C Catalyst™, a new program that utilizes funds and products from the pharmaceutical, biotechnology, diagnostic, and medical device industries to accelerate research on cancer prevention, detection, and treatment. Merck is the Founding Collaborator. Bristol-Myers Squibb Company and Genentech, a member of the Roche Group, are Charter Supporters. Under the SU2C Catalyst program, these companies donate funds to support collaborative research studies using their products, such as diagnostic tests, new pharmaceutical compounds under development, approved agents, and immuno-oncology products that can be investigated for other uses.
Working with an expert Executive Committee, the AACR managed the selection process for projects funded by Merck and Bristol-Myers Squibb in 2016.
New SU2C Dream Teams
The fundamental principles of the Stand Up To Cancer funding model are collaboration, innovation, acceleration, targeted therapy, and translational research. These principles are exemplified by the SU2C Dream Team, a scientific task force comprising leading researchers from different institutions who collaborate to develop new and improved approaches to cancer treatment. By removing barriers to creativity and collaboration, the Dream Team model accelerates the progress of therapies from the laboratory to the clinic.
Since SU2C was founded in 2008, a total of 19 Dream Teams have been established and more than $213 million has been committed to fund their efforts. As the Scientific Partner of SU2C, the AACR has provided scientific leadership, expert peer review, scientific oversight, and grants administration to the Dream Team program. The Scientific Advisory Committee (SAC), led by Nobel Laureate Phillip A. Sharp, PhD, FAACR, identifies the most promising Dream Team projects. Two of these innovative projects were launched in 2016:
SU2C-Cancer Research UK–Lustgarten Foundation Pancreatic Cancer Dream Team: Reprogramming of Transcriptional Circuitry to Control Pancreatic Cancer
Leader: Daniel D. Von Hoff, MD, FACP, FAACR (right)
Co-leaders: Ronald M. Evans, PhD, FAACR (center), and Gerard I. Evan, PhD (left)
This Dream Team aims to reset malfunctioning machinery in pancreatic tumors, increasing their sensitivity to chemotherapy and to anticancer immune cells and pushing the tumors into lasting remission.
SU2C Canada-Canadian Breast Cancer Foundation Breast Cancer Dream Team
Leader: Tak W. Mak, PhD, FAACR
Co-leader: Samuel Aparicio, BM, BCh, PhD
This Dream Team's approach is to identify differences in the cancer cells that distinguish them from normal body cells, find out how those differences make the cancer cells vulnerable, and then target drugs to those points of vulnerability in order to kill the cancer cells.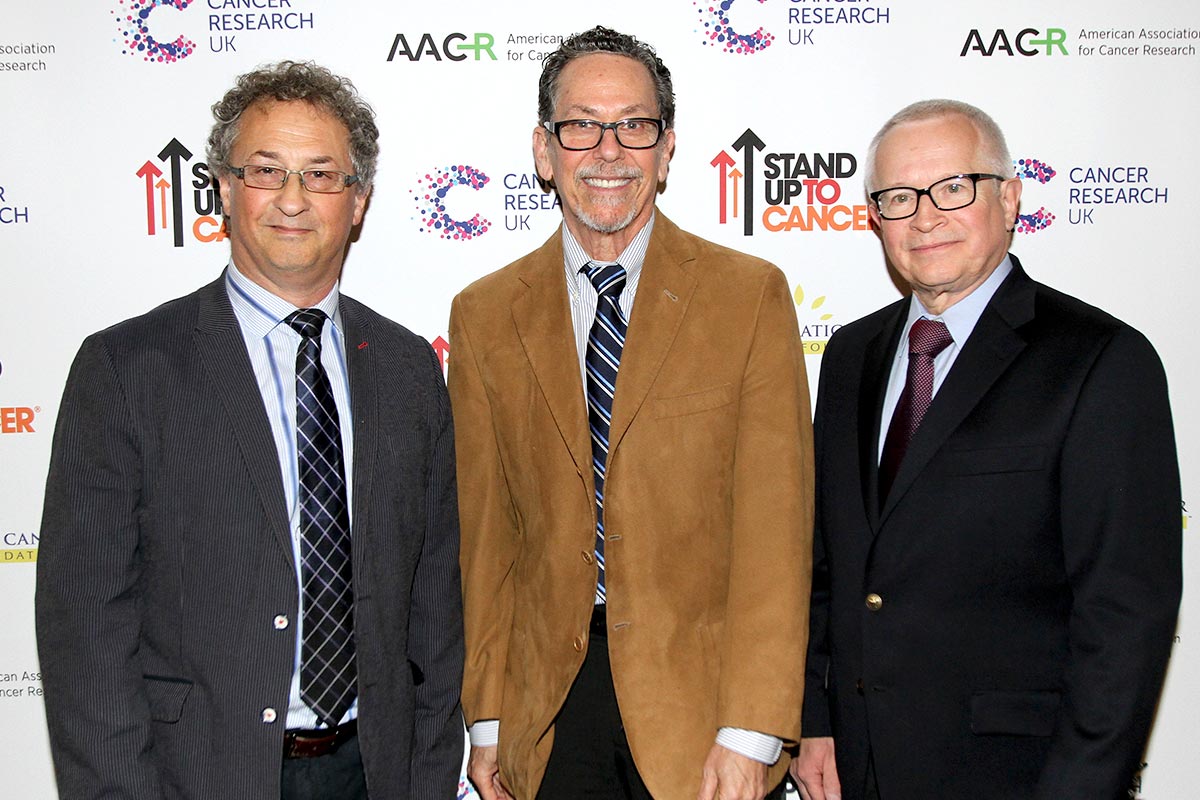 SU2C Phillip A. Sharp Innovation in Collaboration Awards
The AACR continued to manage the selection process for the SU2C Phillip A. Sharp Innovation in Collaboration Awards, named for the Nobel laureate and chair of the SU2C Scientific Advisory Committee. The 2016 awards—totaling $1 million—went to five research teams, each of which paired a senior investigator with a more junior investigator from a different institution. These unique collaborations will accelerate the development of new therapies to benefit cancer patients.
Fifth SU2C Telecast Raises Awareness and Funds for Cancer Research
On September 9, SU2C produced its fifth biennial telethon to raise funds to support its groundbreaking collaborative research programs. With Bradley Cooper as executive producer, the telethon was broadcast on over 40 networks in English and Spanish, and featured appearances by Ben Affleck, Matthew McConaughey, Emma Stone, Anna Kendrick, Josh Gad, Niecy Nash, Eric Stonestreet, Alison Sweeney, Marcia Cross, Greg Grunberg, Danielle Campbell, Charlie Wilson, Brittany Daniel, and SU2C cofounder Katie Couric.
During the broadcast Ken Jeong, the comedic actor, who is also a physician, discussed the AACR's central role as Scientific Partner to SU2C. "The AACR works with scientific advisors to make sure funding goes to the right places, the right labs, [and] the right scientists, and that there is rigorous oversight of research progress," Jeong said. "Their dedication makes all this happen."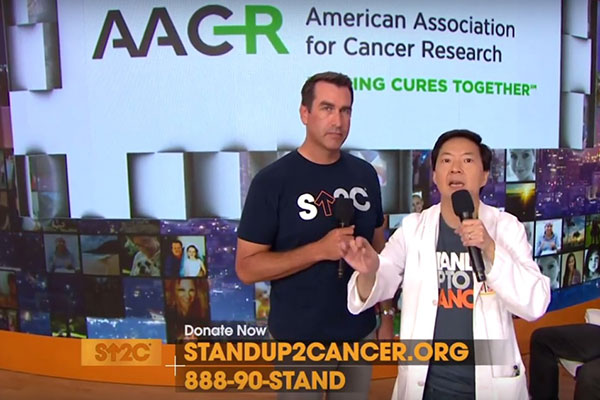 Annual SU2C Scientific Summit
The 2016 SU2C Scientific Summit, organized by the AACR, gathered the entire SU2C community for updates on the scientific achievements of the various SU2C-funded projects. The summit explored cross-cutting themes and possibilities for collaboration across research teams.
Dream Team members, Translational Team members, and Innovative Research Grant recipients discussed the potential of their novel research projects with members of the Scientific Advisory Committee and the Joint Scientific Advisory Committees. These discussions were inspired by presentations from guest speakers Andrew Conrad, PhD, of Verily (formerly Google Life Sciences) and Douglas R. Lowy, MD, FAACR, acting director of the National Cancer Institute. Also in attendance were the SU2C Council of Founders and Advisors and members of the patient advocate community, who reminded the scientists of the urgency of their challenge.